About Us
Arhan Technologies Pvt. Ltd. is a diversified engineering business firm with activities in Machine Tools, Automotive Assembly, Automation Manufacturing, Production Lines Solutions, make-in-India projects and Engineering Assembly for diverse parts production using Japanese technologies. As an Indian company, we have offices across India to provide whole customer support. We are well-known in the engineering industry and have become a supplier to many businesses. Furthermore, our firm manufactures and supplies Industrial Tools, Spring Balancers, Abrasive Tools, Industrial Couplers, Air Hoists, Tape Dispensers, Rail Systems, and other products to individual clients and businesses in quantity at industrial costs.
Our Board of Directors
Sudesh Marutrao Rokade
Mahesh Marutrao Rokade
Anita Sudesh Rokade
Arhan Assembly Solutions Division
It provides the customers with the industry best Industrial Tools that boost the productivity, reliability, quality, and ergonomics of their production lines. We offer qualified, skilled service for all of our products, and we provide clients with on-site AMC and genuine replacement parts. We are the only Indian firm that provides a wide range of Proven Solutions.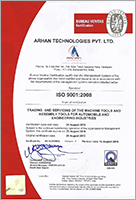 Read More